Make Learning Magical by Tisha Richmond…An Overview
I recently read Make Learning Magical by Tisha Richmond, a former culinary arts teacher and now district tech instructional specialist.  Her book is an inspirational look at how she transformed her classroom into a gamified environment which includes fun, laughter and a healthy dose of competition.  It is an experience that keeps students running into her class to eat it all up!
Make Learning MAGICAL…
Magical is an acronym which is all about:
Memorable beginnings that build excitement and relationships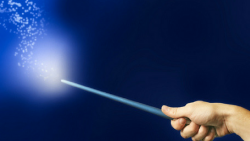 Authenticity and Agency that empowers students
Gamified experiences to engage learning on a higher level
Innovation that makes learning exciting and relevant
Creation, collaboration, and curiosity to equip learners for real life
Authentic audiences to bring out your students' best work
Legacy built through meaningful experiences
Memorable Beginnings (Excitement and Relationships)
Tisha is a great story teller and brings these stories into each of the elements of the acronym MAGICAL.  During the first part of the book she speaks about the magic of hospitality beginning with a warm welcome, an entertaining hook as well as passion and enthusiasm.  In creating a hospitable environment she brings in the elements of décor and the importance of colour and the effects colour has on students.  She touches on some of the specific elements that she has in her own classroom…a coffee bar, music, aroma and how she, the teacher, can make a huge impact on the students she teaches through simple things like greeting students and making everyone feel special and welcome.
I especially liked the "Favorite Things" activity explained in chapter 2.  Like Tisha, my favorite movie of all time is The Sound of Music.  As this is one of the first activities of the school year, it has an impact on the students in her classroom.  During this activity students are asked to write down three of their favorite things and discuss them with their neighbor.  Once that activity is complete, Tisha then shares with them her favorite things; her "passions" through the use of a slide show.  She then takes her cue from Dave Burgess' book Teach Like a Pirate and has her class sculpt one of their favorite things from homemade playdough.  This example is a great way to start off the school year with a hook rather than with the typical "rules" and a course outline. And, of course, she includes a recipe to make your own playdough!
 Authenticity and Agency
Being authentic and getting to know those we serve is the idea behind this chapter.  Once we get to know our students, we begin to see the light that radiates from within them.  Finding their inner beauty and sharing it with others is the focus Tisha has for her students.
This part of the book also talks about the "Magic Attitude" which Tisha describes as more than just a habit.  She describes it as a mindset or an attitude of gratitude!  Gratitude is looked at in depth and #Gratitudesnaps are described as well as the cultivating of a culture of kindness.  You really get the sense that Tisha creates a classroom environment, where we share our fails, where students can shine and where students have agency over their work.
Gamified Experiences
Throughout this next chapter, Tisha talks about gamification deconstructed where one "takes the most motivational techniques of games and applies them to non-game settings like classrooms." (M. Matera)  Once you have found a game or game category that appeals to you Tisha encourages you to ask yourself the following questions:
What do I enjoy about those games?
What can I learn from them?
What are the motivational aspects of the games that get people hooked and
make us want to play again and again?
This how-to chapter is quite in depth and provides plenty of explanation as well as gamified examples Tisha has used in her classrooms.  It ends with the assurance that games and gamification go beyond just the playing of the games.  Challenge, collaboration, creativity as well as critical thinking are outlined in this chapter and bring a complexity to the game that goes much deeper than scores, badges, points and winners.
Innovation
Tisha states that "thinking about things differently, shaking up the status quo, and devising new and better ways of teaching–is how we make learning magical."  She says "to get there, we have to have the mindset of an innovator."  She then talks about George Couros' eight characteristics of an innovator's mindset in terms of herself as an educator.  You can find the eight characteristics and much more in George's book  The Innovator's Mindset.
Empathetic
Problem Finders/Solvers
Risk Takers
Networked
Observant
Creators
Resilient
Reflective
Creativity, Collaboration, and Curiosity
Throughout this chapter Tisha provides examples of opportunities that her students have been engaged in to go above and beyond the classroom experience.  She elaborates on creativity through the following topics:
Bakery Missions
Video Creation
Stop-Motion Animation
Sketchnoting and Reflection
The point she is making in this chapter is importance for educators to model what it looks like to try new things.  Tisha says that students appreciate a teacher who is continuously trying new things; being creative in their teaching and learning.
Collaboration has always been a part of the culinary classes that Tisha has taught and the most important piece of this is to create powerful teams and building relationships.  This building of relationships allows the students to develop trust and because of this, they feel safe to take risks and the result is a deeper learning.
Tisha wants her students to become excited about the possibility to create something amazing in her classes.  She states that "When we tap into curiosity, we experience the sheer joy of discovery.  Creating an atmosphere of curiosity where students feel safe to explore and play is vital to building confidence and ownership of learning.  The magical classroom is one where students are safe, valued, immersed and empowered.  There is curiosity and wonder.  [A]ll it takes is a little mystery and wonder to take a lesson from ordinary to amazing."  These are just a few of the quotes that spoke to me throughout this part of her book.
Authentic Audience
Through connections with community partners, Tisha creates relevancy for her students.  She states that "Creating learning experiences that are meaningful and relevant is essential for keeping the integrity of our programs."
Tisha talks about how the power of reflection and that making time and building reflection into her class time has been one of the best decisions she has made as a teacher.  She highlights #Foodsnaps and Flipgrid as two platforms for reflection and leaves the reader with the question: How can you use reflection to enhance your students' learning experiences?
Legacy
We are making a difference and leaving a legacy with every interaction we have with students.  Tisha states that she will continue to shine her light bright because she is going to make an impact on students one way or another!  This chapter highlights examples and stories of ways you can leave a legacy and how these examples have the power to transform students' lives.  The important question Tisha leaves us with is: What kind of a legacy will you leave?  She is a hard act to follow with her stories and examples, but her humbleness gives agency to every reader to…GO MAKE LEARNING MAGICAL!
Make Magic Happen…My Little Bit of Magic
Two years ago, I happened to write a blog post "Make Magic Happen."  In it I have my own acronym for the word MAGIC.  If you are interested in reading it, please click on the link Make Magic Happen.